Click the door picture

to sponsor this special

Doors of EnCOURAGEment event.
Our mission is to provide financial assistance to residents of Logan County who have cancer or a cancer-related illness while promoting education in the detection and treatment of cancer.
Giving support
Your generous contribution will assist cancer sufferers with related expenses such as medications and supplies, wigs, and travel expenses. In some cases, food, utilities, and clothing needs are provided in emergency situations.
You can rest assured knowing 100% of your generous contribution remains right here in Logan County and benefits residents of this community. The Logan County Cancer Society, Inc. is in no way affiliated with the national association of the American Cancer Society.
Below are opportunities to give:
Direct gifts.
Matching gifts.
Gifts of stock.
IRA giving.
Memorial and recognition gifts.
Planned giving.
Specific projects:

Doors of EnCOURAGEment.


One of the first signs of spring in Downtown Bellefontaine has become the beautiful art lining the streets through the Doors of EnCOURAGEment display. Individuals, businesses and organizations come together to sponsor, decorate and embellish doors to be auctioned off in late April.
Through this meaningful event, nearly 600 doors have been created resulting in over $300,000 benefitting our friends and neighbors through the Logan County Cancer Society.

Lights of Love Memory Trees.

Each holiday season, trees bursting with Lights of Love in honor or memory of loved ones illuminate the entry of Downtown Bellefontaine through the generous support of community members.

Sunflower Shuffle 4 Mile Walk/Run.

Please join us for the inaugural year of the Sunflower Shuffle to benefit the Logan County Cancer Society. With an event to fit most fitness levels, you can choose from a 4 mile Run/Walk event or a 1 mile fun run.
Seeking support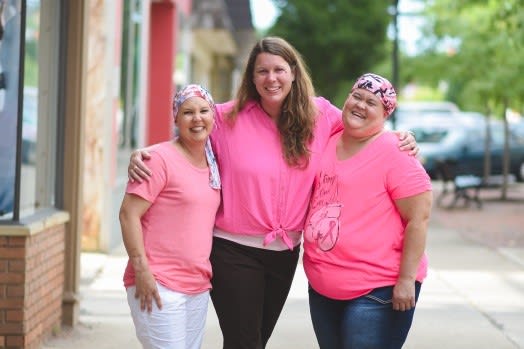 If you need assistance due to financial struggles as a result of a cancer-related situation, please call Mary Rutan Hospital Care Coordination at 937.599.7022 for guidance. An appointment is required. Assistance may include medications up to $300/month and supplies up to $200/month. Funds are available to assist with the purchase of wigs, up to $300 maximum annually and if necessary, travel expenses up to $750/month. An emergency fund has been established to help with food, utilities, cleaning and special clothing needs for persons meeting certain criteria. In some situations, assistance is available for screenings. However, physician expenses would not be included.
Program overview and application