Our mission is to provide financial assistance to residents of Logan County who have cancer or a cancer-related illness while promoting education in the detection and treatment of cancer.
Giving support
Your generous contribution will assist cancer sufferers with related expenses such as medications and supplies, wigs, and travel expenses. In some cases, food, utilities, and clothing needs are provided in emergency situations.
You can rest assured knowing 100% of your generous contribution remains right here in Logan County and benefits the residents of this community. The Logan County Cancer Society, Inc. is in no way affiliated with the national association of the American Cancer Society.
Below are opportunities to give:
Direct gifts.
Matching gifts.
Gifts of stock.
IRA giving.
Memorial and recognition gifts.
Planned giving.
Specific projects:

DOORS OF ENCOURAGEMENT

After 10 years, the Doors of EnCOURAGEment event has become a favored tradition in Downtown Bellefontaine. The beautiful door art lining the streets through the Doors of EnCOURAGEment display is beautiful in so many ways. Individuals, businesses, and organizations come together to sponsor and create spectacularly artful household doors to be auctioned. Many doors symbolize love and pay heartfelt tribute to those specifically in Logan County; neighbors, friends and family lost to cancer. The event not only raises much-needed funds for those faced with taking the cancer journey, but it also brings beauty to downtown, tears of fondness and so much joy to those who take part in its creation. Cancer touches the lives of everyone through personal experience or the experience of others within their circle, it's this collectiveness that weaves the community together as a whole with one purpose – to help those suffering and in need.
Through this meaningful event, nearly 850 Doors of EnCOURAGEment have been created and auctioned to raise over $400,000 to assist Logan County residents.
Seeking support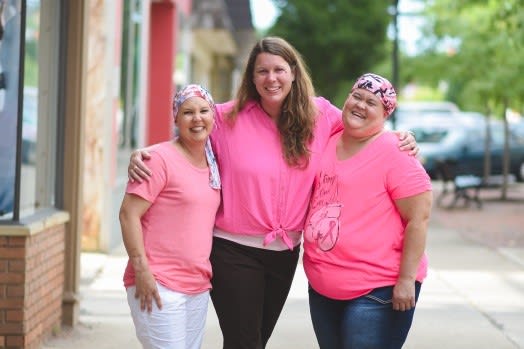 If you need assistance due to financial struggles as a result of a cancer-related situation, please call Mary Rutan Hospital Care Coordination at 937.599.7022 for guidance. An appointment is required. Assistance may include medications up to $300/month and supplies up to $200/month. Funds are available to assist with the purchase of wigs, up to $300 maximum annually and if necessary, travel expenses up to $750/month. An emergency fund has been established to help with food, utilities, cleaning and special clothing needs for persons meeting certain criteria. In some situations, assistance is available for screenings. However, physician expenses would not be included.
Program overview and application