Our mission is to provide financial assistance to residents of Logan County who have cancer or a cancer-related illness while promoting education in the detection and treatment of cancer.
Giving support
Your generous contribution will assist cancer sufferers with related expenses such as medications and supplies, wigs, and travel expenses. In some cases, food, utilities, and clothing needs are provided in emergency situations.
You can rest assured knowing 100% of your generous contribution remains right here in Logan County and benefits the residents of this community. The Logan County Cancer Society, Inc. (LCCS) is in no way affiliated with the national association of the American Cancer Society.
Below are opportunities to give:
Direct gifts.
Matching gifts.
Gifts of stock.
IRA giving.
Memorial and recognition gifts.
Planned giving.
Specific projects/events
Seeking support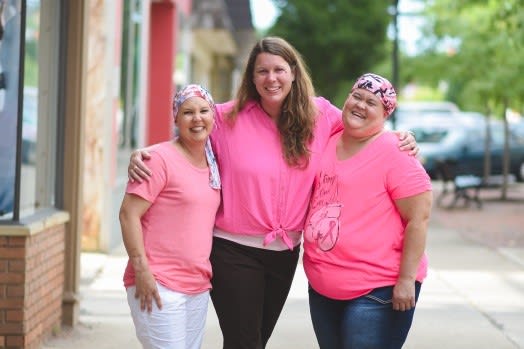 If you need financial assistance due to a cancer-related situation, call the Logan County Cancer Society at 937.599.7022. and speak with a care coordination team member at Mary Rutan Hospital.
We can help with the following:
Cancer-Related Medication: $300 per month
Cancer-Related Supplies: $200 per month
Wigs: $300 annually
Travel: $750 per month for travel expenses to appointments for radiation and chemotherapy, as well as visits to an Oncologist. This assistance is provided in a "fuel only" Speedway gas card.
Expenses are not covered for blood draws, lab work, or travel to physical therapy appointments unless your physician writes a letter stating why physical therapy cannot be done in Logan County.
Screenings: In special circumstances.
Emergency Assistance: $1,000 annually – food cards, utility bills, cleaning supplies, special clothing needs, etc., in special circumstances.
Requirements & Procedure
Client must be a resident of Logan County to apply.
Once the application is complete, an appointment is scheduled to provide the required documentation: physician diagnosis, prescription, supplies, etc.
Application is approved or denied.
If the client has insurance, insurance must pay before assistance will be provided.
A voucher is issued to the client for assistance. The voucher is valid for 1-3 months, then must be renewed.
The client takes (or LCCS will fax) the voucher to an approved pharmacy or business.
Currently, there is no limit on the length of time assistance may be provided.
Fillable/Printable Application